Monday, September 29, 2008
PEELANDER-Z: "JAPANESE ACTION COMIC PUNK"
As you might know, I've got more than a few favorite punk bands who are still alive, well and touring... Contrary to rumors:

Punk is not dead!
There's one that I enjoy more and more every single time I see them: Peelander-Z. And I think I've seen them a few dozen times now.

I first found out about PZ when they sent their first CD to PUNK Magazine. A bunch of us listened to it during a Listening Party (at our old office near the World Trade Center, so long ago) and everyone loved their wacko music, the amazing lyrics, and PZ's carefully-crafted, pop culture image. I went to see them at Manitoba's a few months later and even though there were only a few people in the audience (it's a tiny place, really), Peelander-Z performed as if they were in Madison Square Garden. They were amazing! Later on, I saw them at The Continental and other small venues, where they'd play in front of small crowds, but they always put on a Super Show. Below is a pic of my old pal The General, dressed up as the "original" Peelander-Green, when they enlisted him to join their show at The Continental: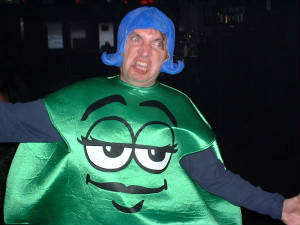 As the years have gone by, they've been playing to larger and larger crowds, and they've grown from a few dozen to a few hundred nowadays (Although they are still nowhere near as popular as they deserve to be).

A few years ago Peelander-Z started a cultural exchange, and promoted Jap Punk shows in New York, bringing over punk and rock bands from Japan. I don't know why, but these bands always amuse, amaze and entertain me. Now that my clothing designs are popular in Japan, it is even more obvious to me that the punk rock scene might be dead in the US, but in Japan it's at a creative peak.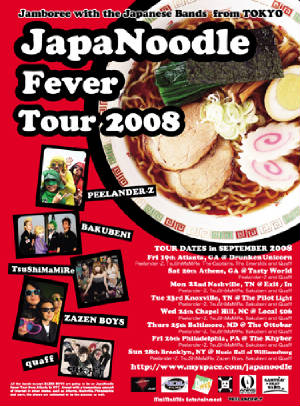 Last night I went to the Music Hall in Williamsburg, Brooklyn, to see Peelander-Z's latest conglomeration of Jap Punk, music, theatre, performance art and wackiness. Right off the bat, I could tell that this place is a really great venue for music! It's received a lot of great reviews from the local weekly papers, and I can see why: Great stage, great sound, great sight lines from everywhere in the club, sparkling bathrooms, a beautiful and comfortable downstairs lounge, reasonable bar prices… The staff was not-so friendly but decent enough. WTF, this is New York, you don't want them to be TOO nice! They were polite to people as they searched their bags, what can I say.

The first band, Bakubeni, was more metal than punk, but I think they're more accessible than 99% of U.S. metal bands. And why not? After all, they cite their some of their musical influences on their MySpace page: AERO SMITH / Chuck Berry / ELVIS PRESLLY / GUNS & ROSES / Jerry Lee Lewis / Louis Armstrong / MUDDY WATERS / NIRVANA / OKABAYASHI / ROBERT JOHNSON / SEX PISTOLS / TAMA / TOM WAITS… Pretty cool influences!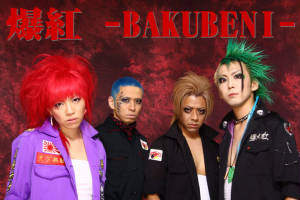 Next up was Quaff. Now, here's the thing that Japanese bands do that I like so much: They take our tired clichés, change them up, add a few new ingredients and make something totally new, exciting and interesting from the mess. Quaff act like they're a huge arena rock band, mimicking the rock moves and "superstar rock" bullshit we all love, hate and know too well. But here's the twist: They do those moves, evoke the attitude and create the look so far beyond what we are used to that they reinvent that "arena rock attitude" into a whole new appreciation. It's so wacked out that even a jaded old rock critic type like myself loved this band to death!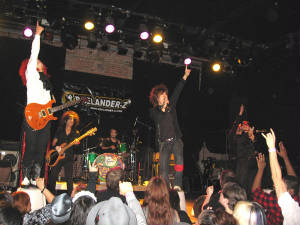 What I enjoyed about Quaff was how much FUN they had onstage. They smiled a lot, posed a lot, and just seemed to make their show One Big Party. (W3ell, isn't this what Rock 'n' roll is all about?)
Another cool aspect to Quaff was that every band member had a distinct character. For instance, the evil-looking guy below was the "Bad Rock Star," while the two guys at the left, above were the "Good Rock Stars."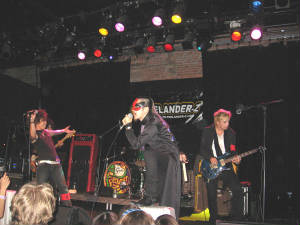 Next was TsuShiMaMiRe, three very cute punk rock girls who can also rock out. They also work with the Powerpuff Girls! (My favorites on Cartoon Network, after The Venture Brothers.)

After their show, their very beautiful singer Mari, asked me if I might draw a CD cover for them… Well, I was so charmed by her, how could say no? (Well, just look at her! (Below))
Could you say no to her?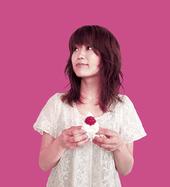 Soon after, the main attraction, Peelander-Z appeared onstage. Immediately I could tell something was different (besides their new drummer: Peelander-Green, who replaced Peelander-Blue). But as the show went on, I could see that PZ, who has always been ditching the music part for the fun, theatrical parts of their show, are moving towards being more to being a gonzo/theatrical act and less of a traditional rock band. In fact, they bear little resemblance to any "rock 'n' roll band" you've ever seen! It's a participatory theater experience where everyone in the audience can become a rock star, where the band and audience become one, and everyone becomes deliriously happy as a result.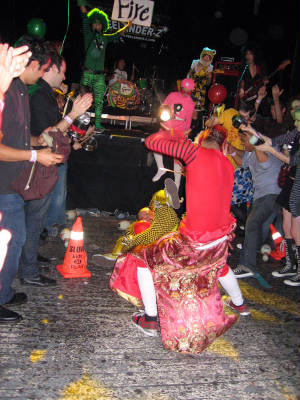 Really, it's difficult to describe a Peelander-Z show, except in terms that defy conventional rock criticism (which sucks so bad that we should thank PZ for liberating us from bothering with it!). It's a display of participatory madness, more like Theater of the Absurd than rock 'n' roll music, more like The Living Theatre than the Rolling Stones.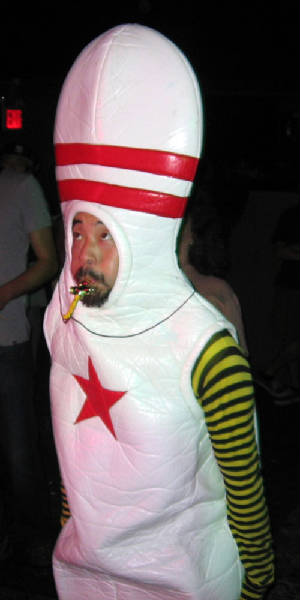 Newspapers should probably send their theater critic and not their music critic, but it would be best if they just sent both.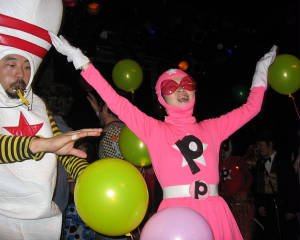 My apologies that these photos cannot describe the manic action of the night, but not only did my camera run out of batteries, but the place was out of control!
The musical highlight of the night was PZ's "Ninja High School," a Peelander-Z favorite that got the whole crowd dancing in a rock 'n' roll frenzy! During their song "Mad Tiger," half the audience joined them onstage and became the band. As they left the stage, for their last number, they played Celine Dion's "Titanic" song… And it was amazing to see the band turn this into a punk rock experience. Taking over a song like "My Heart Will Go On" and turning it into a punk rock dirge is an amazing accomplishment, one that should be celebrated around the globe by all punk fans.

After witnessing this amazing show, I was struck with this thought: Panda (aka Peelander Yellow), the lead singer and main madman of Peelander-Z, is totally the new Iggy. He reminds me of early Iggy, of Stiv Bators, of Sid Vicious. He's totally rock 'n' roll craziness, madness and abandon.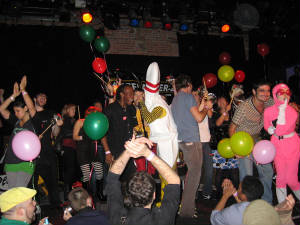 Panda is a true rock 'n' roll madman, genius and leader.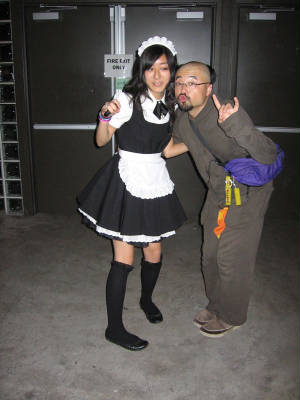 (Above: Peelander Yellow with a performer from the JapaNoodle Tour)


Peelander-Z! See them soon or you will be forever sorry that you missed them.


11:38 pm est
Wednesday, September 24, 2008
MORE EBAY AUCTIONS: ORIGINAL ART FOR SALE!
As you know, I've been selling some PUNK, Comical Funnies and STOP! back issues on eBay (my seller name is "misterbosko"), and now I decided to try selling some old artwork. I'm not charging much, and might start selling some more (especially the sketches).

The first item is really interesting to me. As I explain in the eBay listing, I always draw preliminary sketches for my artwork. First, as a "commercial artist," I usually do a drawing for a client, and once the sketch gets approved I figure they are stuck with the bill, whether they like it or not. Second, I see the sketch as a dry run. It's like practice for a football player or a rehearsal for an actor/director. Once in a while I rewrite the script, or redo a panel. Often I throw the whole idea out altogether. Once everyone likes the sketch I trace the sketch onto a piece of good art paper, pencil it in and start drawing with ink pens.

This sketch was done for a full page Joe strip for Bananas magazine back in 1981: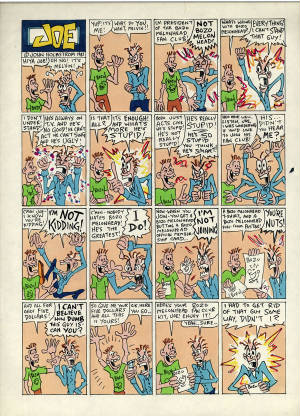 Only my editor, "Jovial Bob Stine" (who went on to become the world's best-selling writer back in the 1990s as R.L. Stine of Goosebumps), and I would ever see this sketch. I'd look at it for an hour or two as I drew it, Bob would read it in less than a minute. Then he'd reject it, edit it, or accept it (he often improved the punchlines). Then I'd spend a few days producing the finished product. This is what the comic strip looked like when it was published: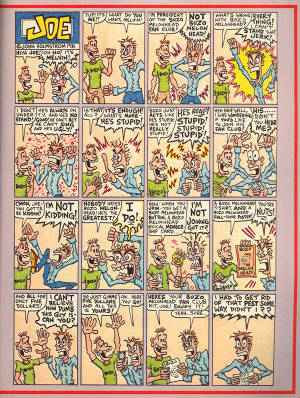 Bob rarely turned one down. Once in a while he would--the Joe comic strip from PUNK #17 (The Clash) contained a strip that Bob turned down so fast it made my head spin. He looked at the first panel, handed the sketch back to me, and said: "No pimple jokes." But I knew it was a funny strip, so I published it in PUNK.
Bananas was probably the best job I ever had. It was great working with Bob, and we shared a feeling of subversion that this stuff was being published by the straight-laced Scholastic company.
The other drawing I put up for sale (see below) is on I did for my friends in Japan, who asked for some "punk rock funny animals." This was one of the first ideas I did for them. In a few weeks I'll be posting the stuff they ended up using, but I like this one. It's basically a different take on the "Surfin' Bird" drawing I did for the Ramones' Rocket to Russia inside sleeve. I also did a "Surfin' Joey" for the Birthday bash a few years ago.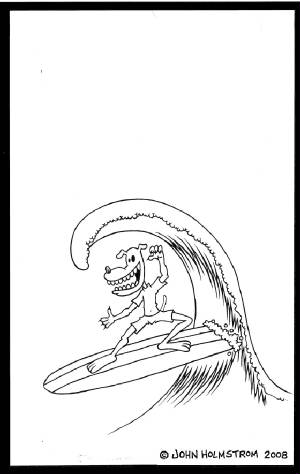 I did a color version, which appears below. But since I draw in black and white, then scan the artwork in, and then add color in PhotoShop, only the black and white drawing is available for sale.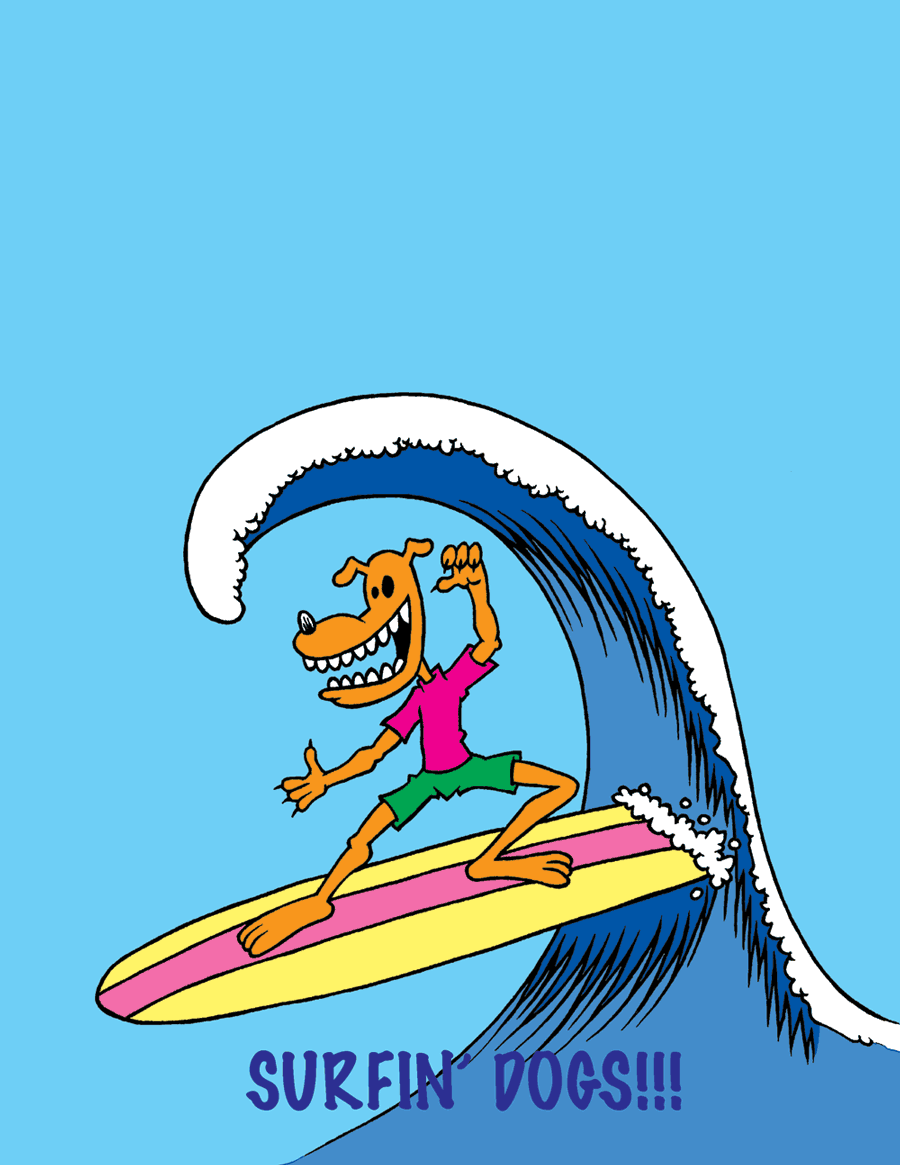 Just remember, I probably won't be listing a lot of stuff for very long. This is just a fall housecleaning thing, so by November I won't be selling much of anything on eBay. So stay tuned, I will probably put up some more stuff in the next couple of weeks.
10:12 pm est
Sunday, September 21, 2008
SNEAK PEEK
This is one of the first PUNK/John Holmstrom items being sold in Japan right now: A very cool hoodie, with Bosko, the PUNK logo, the "Death to Disco-shit" editorial, and a lot of other artwork covering the back. A whole bunch of samples recently arrived, including coats, jackets, a dress, wool caps, baseball caps, badges, pins, women's tops, baseball shirts and (of course) t-shirts. It's mostly women's clothing, and it's unavailable in the US. (But stay tuned!)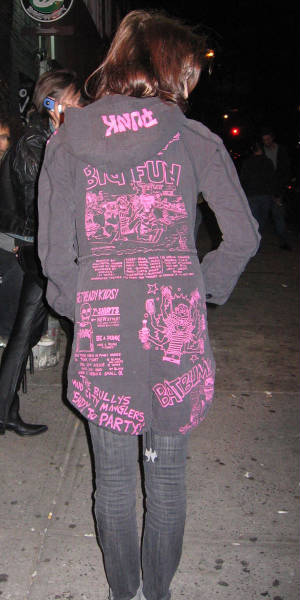 In the meantime, here's a Website where you just might be able to figure out a way to order our stuff from Asia:

If anyone out there has any luck or figures out another way to buy our merch from Japan on the 'Net, let me know, OK? Thanks. (These are very exclusive items!)



5:44 pm est
Friday, September 19, 2008
MORE EBAY STUFF
I'm selling more stuff on eBay, but this will be the last of it for a while: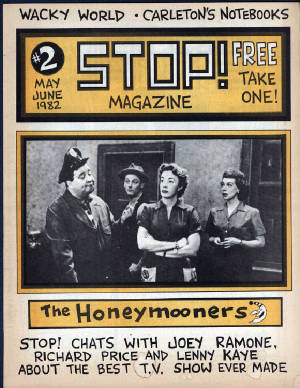 STOP! was a fanzine published by J.D. King and I after Comical Funnies ended. Working with King was a blast! We'd do all the final paste-ups at Screw magazine, back when Bruce Carleton was the Art Director. Since it was a free 'zine, we'd throw wild parties for the launch of every new issue, and leave piles of copies all over the East Village. It was sort of our reaction to the "East Village Art Scene" that was happening at the time.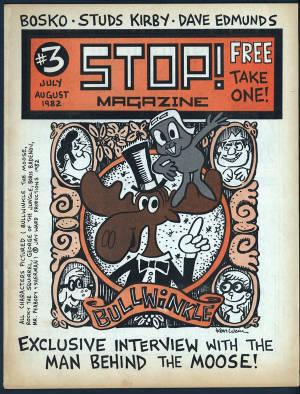 I sell some of the later issues through Misterbosko's STOP! store on eBay and at punkmagazine.com, but I'm planning on ending all these sales of STOP! and Comical Funnies very soon. We'll be rolling out a lot of new products at PUNK before too long...
So don't say I didn't warn you!
2:45 pm est
Monday, September 15, 2008
THIS FRIDAY NIGHT!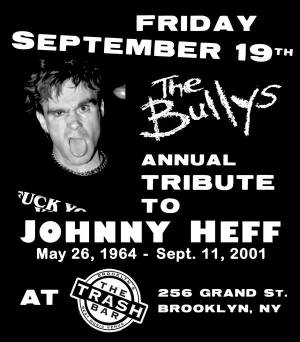 9:24 pm est
Monday, September 8, 2008
EBAY AUCTIONS & BRUCE CARLETON
Wow, my recent Bay auctions of PUNK magazine back issues are getting a lot of attention!
I'm also planning to sell a few rare issues of STOP! as well, but for some strange reason, my recent auction of a complete set of Comical Funnies (the 'zine I produced with Peter Bagge back in 1980-1981) didn't do very well... Is Bagge out of fashion lately? Maybe I should have emphasized the other contributors, such as Ken Weiner/Avidor, J.D. King, or Bruce Carleton...
Speaking of Bruce, just in case anyone out there is looking for back issues of PUNK in MINT condition, you should contact him right away: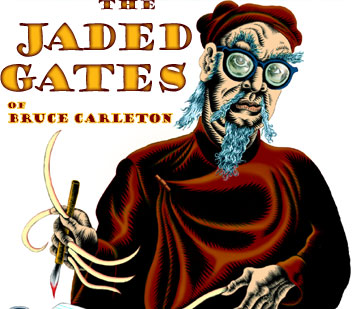 Bruce took a bunch of PUNK back issues back in the day. (It was our equivalent to shares of stock. Unfortunately once Spacely saw us taking some back issues from the office one day he got way too greedy... You can read that story a little bit below)
Anyhow, Bruce has kept his back issues in great shape, and if you want a PUNK magazine in perfect condition, buy something from him! (When I get rich, I plan to buy him out, so buy something soon!)
Naturally, I am hoping people overbid for my back issues, but I do feel that I need to tell you guys about Bruce.
Besides, his Website is amazing and you can read some great stories there!
10:11 pm est
Thursday, September 4, 2008
PUNK BACK ISSUES FOR SALE! GO FOR IT!
Okay, friends, fans and foes!
I finally did it.
I put a few back issues of PUNK for sale on eBay.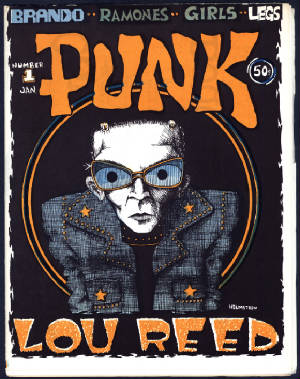 You have to understand that it's difficult for me to part with these babies. Here's the story: One night, back when PUNK was going under in 1979 and the handwriting was on the wall, our sleazebag publisher Spacely took ALL the back issues in the PUNK office over to some cronies of his to a place called "Sohozat." Naturally I was upset! Our entire inventory disappeared just like that. Thousands of copies changed hands just like that. This had always been our biggest asset. People sent us money for PUNK back issues. And you know, this was the only asset we had (besides the PUNK name and logo, which in 1979 was totally worthless).

I did visit "Sohozat" on more than on occasion, and demanded that they return the back issues, but they always pulled some sleazy shit on me, demanding thousands of dollars in rent money "in return for storing the magazines." I was apoplectic! Here they were, selling our PUNK magazine back issues in their crappy, hippie store, and there was no way I could get the back issues back in our possession. I turned to the city government but was told that they would not get involved unless I posted a bond of thousands of dollars... It's one of those things you never really recover from. It was tough losing all those magazines to a bunch of fucking asshole hippies. Worst of all was hearing from people in the 1980s "how cool Sohozat is! What a great store! They have everything!"
Yeah, right. Fuck you too.
If anyone out there wonders why and how PUNK went out of business?
Well, this was a very big reason.
Sohozat fucked us!
Apparently the original fuckbags are still in business and still selling PUNK back issues through their new business, Monkey's Retreat.
As a result, I've had a very limited number of PUNK back issues in my possession over the years.

in the meantime? These back issues are for sale and they are in pretty good shape...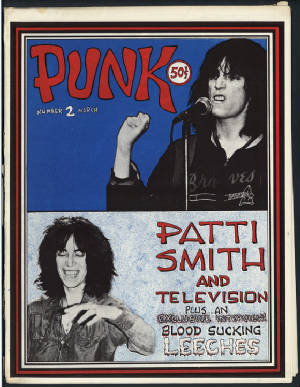 Check out eBay and misterbosko, I'll be selling more for the next few months. After that? I doubt I will be offering PUNK back issues for sale. So this is it! GO FOR IT!
11:45 pm est
Monday, September 1, 2008
WHO IS THE GREATEST OF ALL TIME?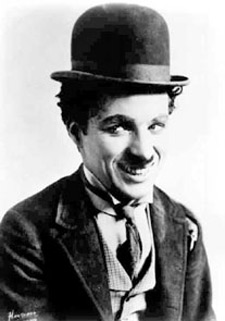 A few weeks ago, Charles Chaplin Day was celebrated on TCM (Turner Classic Movies, one of my favorite TV channels). They did a great job, showing a bunch of his films and a 2003 documentary about the man's life. His achievements were unimaginable in today's world: Chaplin went from being a popular stage actor in 1913 to the most powerful man in the film industry, commanding a then-unheard of $1 million dollars and complete control over everything he did… All this came just three years after he was "discovered." (And he had yet to invent his "tramp" character.)

Can you imagine anyone being so popular so quickly today? A million bucks in 1916 was like a billion in today's currency. No one in the film industry today has anything near the control over his or her films that he had. Not only that, but his career spanned five decades. I doubt there's a single person reading my blog who didn't recognize the above photo immediately.

Yeah, the Internet made people a lot of money, but can you remember the name of the Netscape guy who got rich quick? I can't. We haven't seen an Internet star yet. I'm not saying this is a problem, but it is indicative of something that has died in our culture and mass consciousness.

It's about "The Greats" of the 20th century: The Icons. The Idols. The kind of star they/we don't make anymore.

The "Gods."

In the 20th century there were a lot of them! But we just don't seem to have that kind of individual anymore.

So what happened? Is the world too big? Or have people become small? Is there too much media, too much information, and too much noise?

Just think about today's "superstars:" Justin Timberlake? Hulk Hogan? Elton John? Billy Joel? (Excuse me while I puke!) You can't be serious if you name Lindsay Lohan or Paris Hilton. Tom Cruise has become the punch line to a joke. Will Smith is a popular screen actor, but so what? Alex Rodriguez is acknowledged as the best baseball player today, just as Barry Bonds was a few years ago, but people seem to hate them. Michael Phelps had a great Olympics, but wake me in five years if anyone is still talking about him.

When did we stop idolizing people? Are we cynical, or did we wise up? Has the media's constant snooping made celebrities too human, or is it that we don't have celebrities worth idolizing anymore?

Here's a short list of some absolute superstars of the 20th century who have no modern-day equivalent:

In film: Charlie Chaplin's career began in 1914 with some short comedies and ended in 1967 (with A Countess in Hong King). Fifty years of success. You can argue about whether other film comedians were funnier or better writers or whatever but you have to admit there has been no more successful comedian in film history. (BTW, Woody Allen's appearance in that Chaplin doc should make people aware of what a bitter, twisted fuck and total loser he is).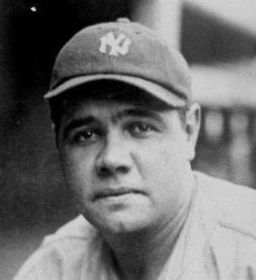 In sports: Babe Ruth. There might be players who could hit better, field better, or whatever but let's face it. He's the most important sports figure of the 20th century. Kids absolutely loved him, and baseball became America's "National Pastime" after he burst on the scene.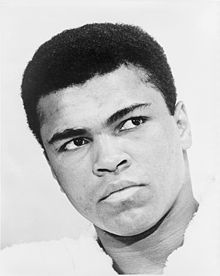 Another sports immortal is Muhammad Ali. The Greatest. When he dies, which hopefully will be many years from now (after I die), he will be acknowledged as "The Greatest" fighter, the most controversial sports figure, and a true superstar. He lived up to the nickname he bestowed on himself. No one today in any field comes close to Ali. (Gorgeous Georg was close, back in the day, of course!)
Oddly, I can't think of a football or basketball player who has the kind of status that Babe Ruth and Ali enjoyed. Someone could mention Michael Jordan, but I am not sure he'll be remembered in 50 years the way Ali and Ruth are today. Tiger Woods, our most popular athlete today, is the dominant golfer and the sport is popular, but you just can't compare him to Ali, Louis and Ruth.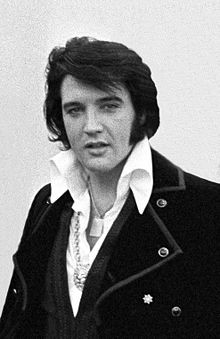 In popular music, there's the Big Three: Sinatra, Elvis, The Beatles.

Years ago, Bing Crosby would be on the list, but he's not really remembered anymore. He was beloved by his generation and forgotten by the next. Likewise Louis Armstrong. As good as they were, these guys were never idolized the way The Big Three were. On the other hand, the fact that many people would argue with me that this or that one should be added to the list proves my point: There are no musicians with cross-generational appeal or lasting success anymore. Who ya gonna call, R. Kelly? Eminem? Beyonce?

The Rolling Stones? Maybe. But they were a product of The Beatles, weren't they? The Beatles changed the world, and then the Rolling Stones made a lot of money by being the opposite of The Beatles. Anyhow, we will have to see how they are remembered after they quit playing, and right now that looks like it will never happen. Anyhow, name me another band after them that has the same mass appeal that Sinatra, The Beatles or Elvis enjoyed. Naturally, if you are a younger person, you won't understand what I am talking about because you never saw the cultural dominance that I am referring to.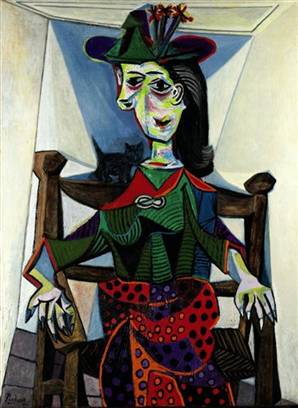 In art: Pablo Picasso had an impact that can't be understood by people today. He was the first Modern Art Star, and the most important. I heard once that a young man who wanted to become an artist approached Picasso as he was enjoying a meal. He showed Pablo his artwork, and so Pablo scribbled something on his lunch receipt for the guy. This paid for the kid's art school education.

Cartoons: Walt Disney, of course. Even though I dislike Disney cartoons, you can't discount their impact on the culture. I mean, the guy even created his own World! You can't say that about other cartoonists (even though Tex Avery Land would be a lot of fun to visit!).

I'd like to add Matt Groening to the list since The Simpsons is a true cultural phenomenon but I honestly think his producers have more to do with the Simpsons' success. In a way, The Simpsons' success reinforces my theory that we will never see the likes of the Greatest Talents of the 20th century again. The Simpsons is a collaborative work, its success was the result of a big corporation hiring many talented people. It wasn't the singular vision of one person. You can't compare the guy to Charles Chaplin. Also, no offense to Mr. Groening, who I admire, but he didn't change the television medium with The Simpsons, he just helped to create a popular TV program.

Below, I wrote a list of who I think were the Cultural Giants of their Time. These aren't lists of my favorite artists/performers/writers. I don't even like some of them. It's a list of creators/performers whose achievements are seen as so far beyond everyone else that they will be seen as stars 1000 years from now. I'm trying to name icons. Gods! IMMORTALS!!! The Greatest Of All Time!

My 19th century list:
1. Charles Dickens (writer)
2. Mark Twain (writer)
3. Thomas Nast (cartoonist)
4. Victor Hugo (writer)
5. Vincent Van Gogh (artist)
6. Mathew Brady (photographer)
7. Claude Monet (artist)
8. Ludwig van Beethoven (musician)
9. Jules Verne (writer)
10. H. G. Wells (writer)
11. Walt Whitman (poet)
12. Edgar Allan Poe

My 20th Century List:
1. Charlie Chaplin (actor/filmmaker)
2. Babe Ruth (athlete)
3. Walt Disney (cartoonist/filmmaker)
4. Muhammad Ali (athlete)
5. Elvis Presley (musician)
6. Pablo Picasso (artist)
7. Frank Sinatra (musician)
8. The Beatles (musicians)

I could add so many other names to the 20th century list:

Andy Warhol

I bet you could add more, too. The 20th century had a lot of great names/people/personalities.

I'd like to think that we can start a new list for the 21st century, but I can't think of a single name to begin it. It just seems like we're in a cultural rut.

Or is it just me?



10:48 pm est