Monday, June 30, 2008
MORE STUFF MADE IN JAPAN
Today I received a big box of t-shirts from Japan. It also contained a box of chocolates! These were from Moussy, one of the companies that is selling clothing with my artwork and PUNK Magazine logos.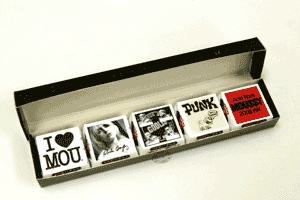 Moussy made a few hundred boxes for promotional purposes so the chocolates are not for sale, but it's a great feeling to see one of my cartoons and the PUNK logo on a piece of chocolate. I'm afraid to eat one, so i can't tell you yet how it tastes. As you might be able to see (if your computer screen is big enough), they're also producing clothing with two friends of mine: David Godlis and Roberta Bayley. It's nice to be associated with them.
In other news, I ran a link to the Chubbygang sales page the other day but from what I'm hearing, not many people clicked through enough to see some of the portraits of little kids in PUNK clothing. So here's my favorite pic: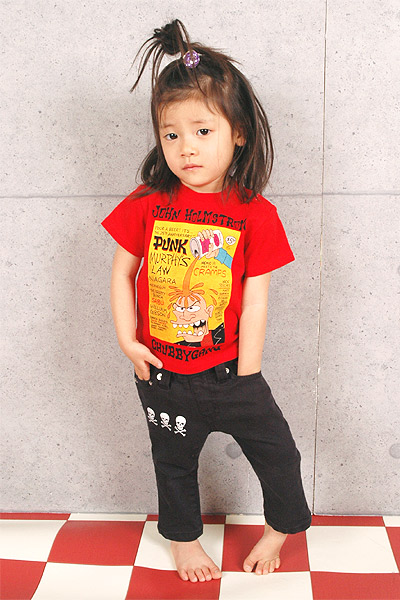 It's beyond bizarre to me that a company is successfully marketing clothing with a PUNK magazine cover of a weird punk guy getting a beer splashed on his head and my name on it to little kids in Japan! But I love it! Even better, I received one of these t-shirts in the package today, and they're very high-quality material, nicely printed and all.
I'm still trying to find out if they sell to the US. If anyone of you readers tries to order something through their Website and finds out, please let me know, OK? Thanks.

8:18 pm est
Saturday, June 28, 2008
THE TURBO A.C.'s: PUNK ROCK IN THE PARK
So we recently saw a flier for a punk rock concert in Tompkins Square Park, and decided to go. We got up late and it was another of those crummy, hot, humid and rainy days, but we somehow managed to get out of the apartment. By the time we got to the park at around 4:30 pm, the Turbo A.C.'s had just started their set. Since they were the band we most wanted to see, it was a great day to be alive.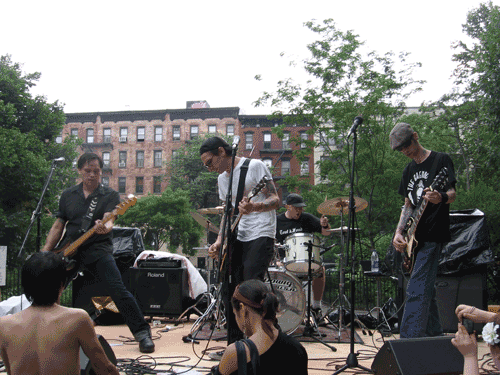 The Turbo A.C.'s are a great punk rock 'n' roll band. We ran a big feature on them in PUNK #19. But don't take our word for it. Some guy standing behind us (a neighborhood musician who looked like anything but a punk) was very impressed by their professional sound (especially considering the tiny PA) and musicianship.

There weren't many people in the park, but usually the free punk concerts are well-attended. Is punk rock disappearing? (We know it will never die.) Or was it that this event just wasn't promoted well? I think it's the latter--none of the local alternative weeklies or daily newspapers mentioned it at all.

There are more free concerts coming up soon:
July 27: Hammerbrain, False Prophets, Reagan Youth, Nihilistics, APPLE, David Peel, Professor Louie.
August 2 and 3:Lanned Ollapse, Thought Crime, Black September, Casa de Chichuahua, Leftover Crack, Death Mold, Team Spider,DisAssociate, Witch Hunt, Star Fucking Hipsters, Hungry Marching Band.
9/26, 9/27 and 10/26: To Be Announced.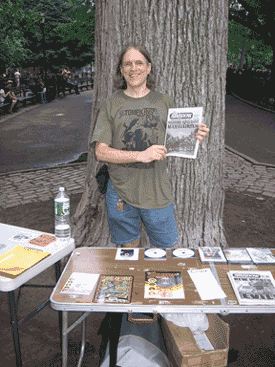 The Shadow (published by Chris Flash, seen above at his merch table), helped sponsor the event, along with Time's Up, the radical bicycle group. Although I'm not exactly in lock-step with their political views, it's nice that they're supporting the music now that most NYC punk clubs are gone. Chris and I had a nice talk, he's hoping I can get Punk in print again. Like I tell everyone, I'm doing everything I can.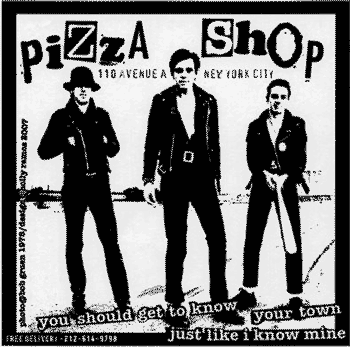 It started to rain after the Turbo A.C.'s (actually it was a cloudburst!) so we ducked into The Pizza Shop, just a stone's throw away. Good pizza, the game was on, and it's got to be the nicest place to get a slice in the neighborhood. Kevin from the Turbo A.C.'s is a part owner (along with Jesse Malin), and was makin' the pizza! (Check out their limited edition pizza box, courtesy of Bob Gruen, above!)
Wow! Punk rock & pizza! What a cool day.
10:01 pm est
Friday, June 27, 2008
COMBAT!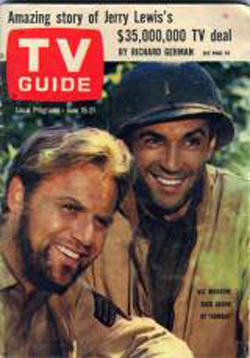 Okay, I am up late and watching my favorite TV show of all time: Combat!
I've written a few times over the years about how Combat! was my favorite TV show as a kid, and how it still has a pull to me today. To me, Vic Morrow (as Sgt. Saunders, but also in his other roles) was the best actor of the 20th century. I thought that as a 12-year-old kid, and I still feel that way.
But hey, don't take my word for it. Look at the show's credits. Let's begin with Vic Morrow, who first gained his rep as a teenage punk in Blackboard Jungle (a film that featured Bill Haley and the Comets' "Rock Around The Clock" in their soundtrack--which instigated rock 'n' roll riots in the 1950s but became tame as milk by the 1970s when "Happy Days" use the exact same song as their lead-in). That was his first film role, but he also appeared in many other great projects and unforgettable roles such as the Roots miniseries, Dirty Mary Crazy Larry, The Bad News Bears, Humanoids From The Deep, and the vastly underappreciated Portrait of a Mobster. He also appeared in great early TV shows such as Naked City, The Millionaire, Alfred Hitchcock Presents, The Rifleman, Bonanza, and many others.
But let's not forget Twilight Zone:The Movie. This is the project that cost poor Vic his life! In a very famous incident Vic Morrow was killed in 1983, along with his Asian co-stars, during the filming of John Landis's Twilight Zone: The Movie. Bad ass that he was, Victor was playing a racist who then becomes a victim of racism due to some weird Twilight Zone twists (time traveling through all kinds of strange scenarios), and converts to a more enlightened world-view.

IMO Vic Morrow is one of the best actors who ever appeared in a regular TV series, and if he had lived longer or been born later, would have become a much bigger star.
One of the best-remembered episodes was directed by Robert Altman, who was fired from the TV show shortly afterwards! Apparently the show was too anti-war. Well, it was a weird episode. At the end, Saunders (Morrow) carries the dead body of a German soldier in his arms, believing it is his brother, as victorious American troops march around.
Then there are the guest stars who appeared on Combat!
Here's a partial list:
Nick Adams, Eddie Albert, Frankie Avalon, Bill Bixby, Beau Bridges, Charles Bronson, James Caan, James Coburn, Robert Culp, Robert Duvall, Chad Everett, Shecky Green, Dennis Hopper, Ted Knight, Fernando Lamas, Robert Loggia, Claudine Longet, Rocky Marciano, Lee Marvin, Sal Mineo, Ricardo Montalbon, Leonard Nimoy, Ramon Novarro, Warren Oates, Dick Peabody, Wayne Rogers, Telly Savalas, Tom Skerrit, Warren Spahn, Harry Dean Stanton, Dean Stockwell, James Whitmore.
If you're not into war drama? Skip Combat!. On the other hand, if you enjoy World War Two drama, this is among the best of all time.

Meanwhile, check out this site for the best Combat! info:
2:24 am est
Wednesday, June 25, 2008
CHUBBYGANG!!!
My friends in Japan sent a link to the new "John Holmstrom/Punk" clothing line from Chubbygang:

It went on-line a few days ago and the t-shirts are selling great! Click into the red bars next to each design to see little kids and babies wearing the shirts--it's amazing stuff, even if I do say so myself! Little babies are wearing t-shirts with the anti-disco editorial from PUNK #1 on the back? It's like living in an alternative universe. I love it!
This stuff is not available in the US, at the moment there are no plans to sell them here, and I don't know if they ship to the US. (I will try to find out, but it looks like you have to know Japanese to order on-line.) But I'm hoping to bring out some new t-shirts here in the US.
PUNK logo and emblem t-shirts are available in basic black only at Wornfree. (Look for shirts worn by Debbie Harry and Joey Ramone, and look through their blog to see some other interesting PUNK t-shirt models.)
I'll be posting more news as it comes in.
1:12 pm est
Monday, June 23, 2008
I LOVE JAPAN!!! (SNEAK PREVIEW!)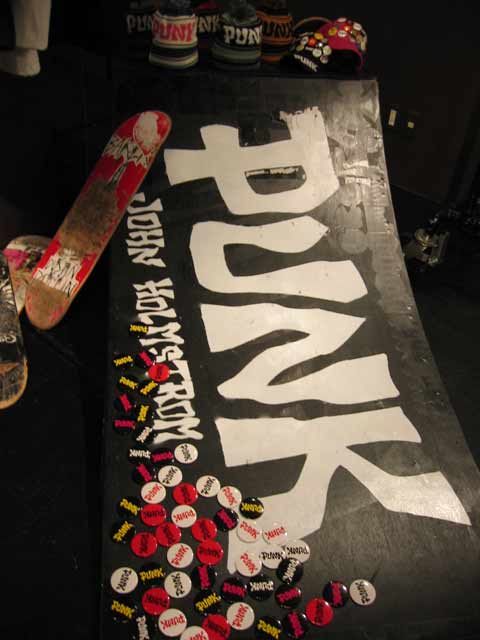 As most of you probably know, I have this wonderful clothing deal with some companies in Japan, and they are taking such good care of me that I am just about ready to move out of New York! The above photo is from a trade show that my friends in Japan put together... It's SO nice to be appreciated!
As you can see, our Japanese friends are fascinated with skateboard culture, punk rock, and the seamier side of our culture. And as always, I am baffled that our city government does all it can do to wipe rock, grafitti and rap culture off the map. No wonder our country is a financial mess!

I know a lot of you will ask how you can buy some of this stuff in the states, but, as much as I love you all... Until further notice, for now this is only available in Japan.
2:24 am est
Sunday, June 22, 2008
JATROPHA
Okay, so my last post got me all nostalgic for the time I spent at High Times.
The thing is, when I worked at HT in the editorial department (back in the late 1980s and early 1990s) it was such an exciting time to be fighting the good fight against the Not So Great (now non-existent--as far as propaganda purposes, even though the government uses it when it feels like it) Drug War.
We had just begun to discover and promote Jack Herer's ideas about how the hemp plant could be used for "food, fuel and fiber," and discussed and debated whether the hemp plant could really be used for industry or not. This was during first Bush administration, just after GWB's pop invaded Kuwait and almost invaded Iraq, and during the time that Edwin Meese threatened to put us all in jail because we dared to exercise our first Amendment rights by working at a drug rag like High Times.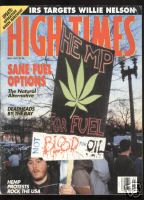 We had another energy crisis for a few months, and alternative fuels were in the media spotlight again. I remember so many wonderful discussions with the staff (mostly Steve Bloom, Lou Stathis and Ed Rosenthal) about whether Herer's assertion's concerning hemp as a miracle plant were on the mark or not.
There were two incidents that convinced me that Herer, as ridiculous as his assertions were, was on the level:
The first incident was when Jack Herer pulled out a book published around 1900. It had been published on hemp paper. To prove his point about hemp's amazing uses he crumpled up a page of the book. As he discussed the uses of hemp as a paper source and the sheet of paper he had just crumpled got smoothed out to a normal page of paper, I was just astonished. Are you kidding me? As a cartoonist and illustrator, I would kill for a good piece of paper like that! Damn!
For whatever idiot still wants to paint me as an "old hippie" because I worked at High Times and supported the program for legal marijuana? Hemp promises to be the best source for paper we ever had. Why the fuck our idiotic government continues to keep this valuable plant away from us just totally mystifies me.

The second incident that convinced me that Herer's insane claims were actually on the mark was when I spent some quality time with a blind woman who was a follower of Jack Herer. She swore that when she smoked pot, her eyesight improved to the point that she could read books and see sunsets. This was kind of a closer to me. I mean, being from HT and all, I could tell she was no plant--why would she fake her disability to me. She was a blind woman. But for whatever reason, she could actually see after she smoked some pot.
This got me all worked up: If marijuana can give eyesight to the blind, exactly WHY is it illegal???

Every true American should be pissed off about the useless and stupid War on Drugs.

What sparked my memories about hemp as an alternative fuel was a report on Fox News about the Jatropha plant. It seems very similar to the hemp plant, and is being promoted as "the better alternative" to plants like corn and soybeans when it comes to the production of alternative fuel. Jatrpoha's promoters claim that it produces ten times the fuel of corn and 4 times the energy of soy, and can be grown in sandy soil.
Jatropha is a better idea than this idiotic "corn for fuel" thing our politicians are forcing on us. "Corn" is making alternative eco-fuels a useless, stupid idea. It seems that our Iowa primaries are pushing stupid ideas like "corn for fuel" on all of us, but our idiotic politicians need to understand that we can do better. I have been saying (privately) for many months that the use of corn for ethanol is so useless that it makes the whole idea of alternative fuel into a stupid idea--so this is probably the way that Big Oil makes us all think that alternative fuel is useless, right?
To me, it's all about hemp, Jatrpoha, soy, whatever. Let's just do what we can do to tell whatever foreign powers hold us in thrall to fuck off.
3:21 am est
Friday, June 20, 2008
HE HAS FUN EVERYWHERE HE GOES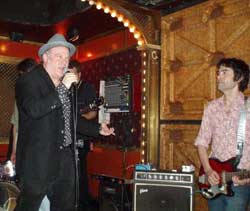 Last night we went to Pete's Candy Store in Brooklyn to see Mike Edison's book reading. What's different about his "book readings" is that they're often full-scale music concerts. This time, he had Jon (Blues Explosion) Spencer on guitar, Dean (Murphy's Law) Rispler on bass, Hollis (Boss Hog) Queens on drums and Mike (Raunch Hands) Chandler on maracas and vocals. Edison played keyboards, theremin and vocals. The band played a loose jam behind Edison as he read excerpts from his book describing some of his experiences as a pornographer, writer and, now, book author. As you can see from the pic (Edison on the left, Spencer on the right), the place had a really cool little stage.

Edison's recent memoir ("I Have Fun Everywhere I Go") is controversial, since he writes a lot of personal stuff, and especially since he writes a lot about what it was like working at High Times magazine at around the same time I was there, and especially since he gets very personal about people we both worked with. Mike says he's receiving 60% fan mail and 40% hate mail. I'm trying to avoid discussing my High Times experience in this blog mostly because I want this to be about what I am up to now (although some day I might have a story or two to tell about the past). I'll just say it wasn't all candy and nuts. It's not the stoner paradise a lot of potheads would wish for--just like working at Playboy is not a paradise for horny guys and the original PUNK magazine was... Well, er, uh... Actually, that WAS a paradise for punk rockers. But maybe that's why we went out of business so long ago.
Anyhow, High Times is a weird place, it's very difficult to describe what it's like to work there. As one FOT (Friend of Tom Forçade, HT founder) put it, "High Times was Tom's ultimate practical joke."

I'll just say that I enjoyed reading "I Have Fun Everywhere I Go." There are interesting war stories about publications like High Society (where some friends and acquaintances who later worked at High Times spent some time). I got a good idea of what it was like to work at a skin mag in the 1980s. I also enjoyed the rock 'n' roll and wrestling tour stories, since I am a big fan of that art form as well. Mike has always been a very colorful writer (I hired him to write a column for HT back in the 1980s on the recommendation of Judy "Dategirl" McGuire). He's a cockeyed optimist who always sees the funny side of things, even when he's the butt of the joke (although he has more fun giving it out).

Afterwards, we ran into Victor Colicchio, who just did an interview with the "Who Killed Nancy" crew--which I helped to set up. He sez it went great, and I get the funny feeling he will steal that show! (Like my hero always sez: "I love it when a plan comes together!") I found out he once worked as a butler for Leona Helmsley! He's working on a lot of interesting stuff—but this is enough excitement for one day. I'll say more later. So stay tuned.

(Above: Photo by Stephanie Bok)

10:51 pm est
Thursday, June 19, 2008
SNEAK PREVIEW OF PUNK MAGAZINE/JOHN HOLMSTROM CLOTHING LINE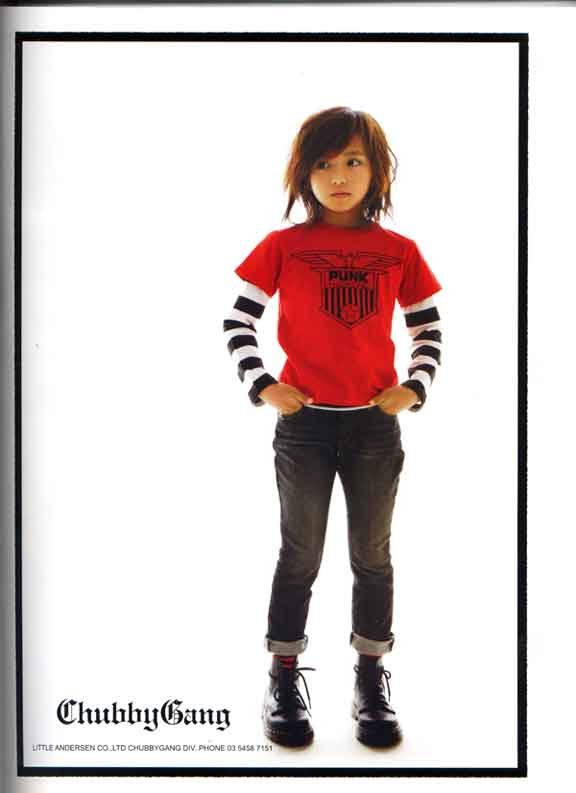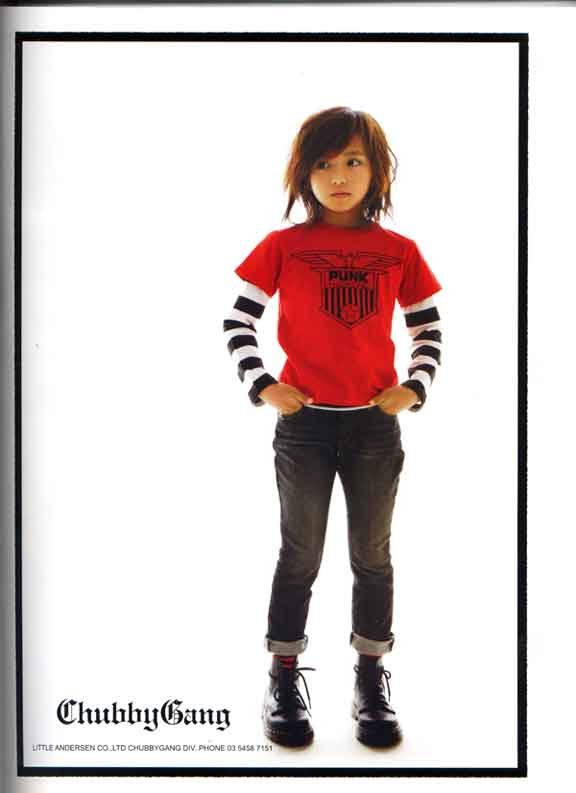 Here's an advertisement for an official PUNK magazine t-shirt from a Japanese magazine called "Milk." My thanks to the fine people at Chubbygang, they're taking good care of us! They're strictly class, taste and competence all the way.

Ha! I'm not used to this! But it's a good feeling.

Anyhow I'll be posting more very soon here and on punkmagazine.com.
So come back now, hear?

12:24 am est
Monday, June 16, 2008
"WHO KILLED NANCY?"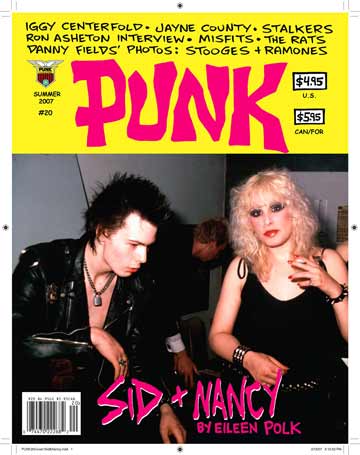 Last Wednesday I was interviewed by Alan G. Parker for his upcoming documentary film "Who Killed Nancy?" This promises to be the most comprehensive investigation ever conducted into the questions surrounding Sid Vicious and Nancy Spungen. Alan told me he's also interviewing an NYPD detective assigned to Nancy's murder, as well as a number of people who have never discussed this in public before. The film is scheduled to premiere in October, which will mark the 30th anniversary of Nancy's death.
I've always had mixed feelings about discussing Sid and Nancy. Her murder marked the beginning of a very dark period in my life -- a lot of important people in my life died over the next few months, and the incident put the final nail in PUNK magazine's coffin. On the other hand, I have always been eager to get the true story out there. Most of us who knew them even a little bit never thought Sid killed her. It was a Big Lie that made punk rock look bad for a very long time. It was to the punk movement what the Charles Manson murders were to the hippie movement. I'm confident that Alan Parker's film will get the truth out there.

5:58 pm est
Tuesday, June 10, 2008
DID YOU SEE THIS???
Well, this would explain a lot...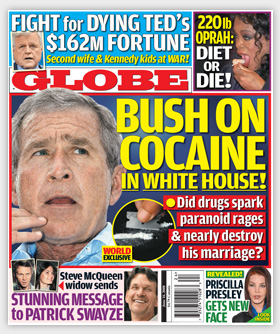 11:18 pm est
Sunday, June 8, 2008
Strange and Stranger: The World of Steve Ditko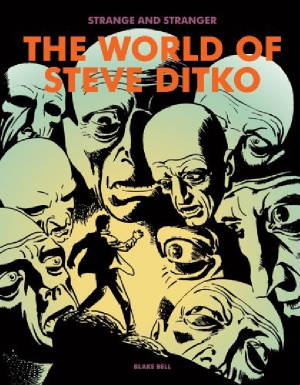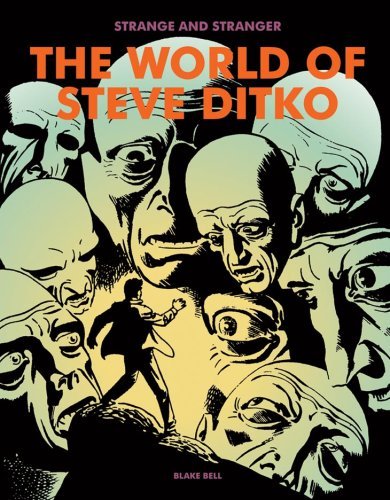 I spent most of last night at Jim Hanley's Universe, a great comics store on East 33rd Street, located just below the Empire State Building (and just a few blocks away from the location of Will Eisner's office in the early 1970s, where I got my first job in publishing, and not far from where I lived back then). Anyhow, if you've never been there? You have to go. They stock a lot of indie comics, as well as the classics, and some weird stuff. Heck, they even sold Bosko #1 for a while.
I went there to check out a publicity event for Blake Bell's new book, Strange and Stranger: The World of Steve Ditko (published by Fantagraphics). Before the event began, I ran into a couple of my favorite underground cartoonists: Kim Deitch (who I have had the pleasure of seeing many times over the years--notably at the Montreal Fantasia Film Festival a few years ago when we were both special guests) and Jay Lynch, whose Nard 'N' Pat was a big influence on me back in the 1960s/early 1990s.
Blake ran a slideshow of Ditko's early work and also screened a film. (Unfortunately the DVD kept freezing up so the event dragged on and on. I would say Steve Ditko, a very private and almost reclusive person, put a curse on the event except for the fact that Steve Ditko would never believe in anything as superstitious as a curse--even though many of his comics dealt with themes such as curses, sorcery, mysticism, the supernatural and space aliens. Thus the mystery about his career.)

Most of you have never heard of this Steve Ditko guy (co-creator of Spider-Man, creator of Dr. Strange and Mr. A). I've been a fan and collector of Ditko's work since around 1960, when I read his monster comics in early Marvel comic books like Tales to Astonish, Strange Tales and Journey into Mystery, and became more and more fanatical as the years went by. I read his Mr. A and Avenging World comic books, which were long diatribes based on the objectivist political philosophies of Ayn Rand, and are examples of the most radical kind of work that the comics format can reach. His ideas had a strong influence on my thinking at the time. I even made my first friend in New York, Batton Lash, when we met at the School of Visual Arts (where Ditko also learned his craft) and discovered each other's Ditko obsession, and that a major reason we even chose the school for our education was because "Ditko went here."

Despite the technical problems I enjoyed Blake Bell's presentation. Several questions about Ditko have always haunted me (and the many thousands of other fans of his work). As one guy (I think it was Alan Moore) in the DVD remarks, "When Ditko left Marvel comics in 1966, it was as if John Lennon left the Beatles right after Help! came out." This is an apt simile, since Steve Ditko quit Spider-Man AND Dr. Strange just when both comic strips were living up to all the hype words Marvel comics threw around at the time: Amazing, Strange, Astonishing... Although I didn't receive definitive answers about the mysterious Mr. Ditko, I did feel that I gained a better understanding of his mindset.

I have often turned to 1960s Marvel comics for "inspiration." For instance, the centerpiece in my Bosko comic book, "The Incredible Hangover," is basically a frame-by-frame homage to the opening action sequence in Spider-Man #33, which is, as the Ditko DVD points out, probably the most famous sequence in comics history."


9:27 pm est
Wednesday, June 4, 2008
Richard Lloyd's RADIANT MONKEY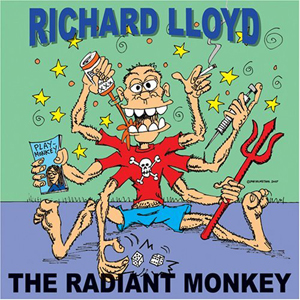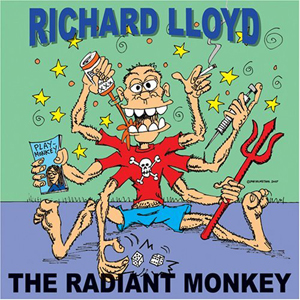 Yes, I do produce new cartoon work from time to time. One of the reasons I wanted to run this site as a blog is so I can keep people up-to-date. The latest CD cover I did was for Richard Lloyd, who I know from the early CBGB days. (For instance, I interviewed Richard and Tom Verlaine for the second issue of PUNK. There's a lot more to the story but I'm saving that for "my book.") Anyhow I was very surprised when Richard called me out of the blue to draw the cover for his CD last year.
I thought the idea of working with Richard could be interesting, and I really wanted to interview him for PUNK, so I agreed to draw the CD cover. We met up at his music studio on Eighth Avenue (a really cool and crazy building with a lot of different musicians working in decent-sized rooms). I brought along a tape recorder and interviewed him (for the CBGB issue--PUNK #21), then we spoke at length about what he wanted for the cover.
These collaborations are always interesting. Sometimes musicians/clients want you to think everything up, sometimes they have a vision they expect you to recreate. (And when they do, you always hope that you can somehow pull it off.) In this case Richard had a very specific vision.
Richard went over my first round of ideas, then liked a rough from my second round of sketches so much that we used that instead of the finished artwork. Like many cartoonists, I often do rough sketches for clients that have more life to them than the finished artwork. Richard, to his credit, knew exactly what he wanted--an underground comix-type cartoon of a monkey getting high, jerking off, getting drunk, gambling, etc. etc. He also had some ideas for the back cover, but you'll have to check out the CD to ee it 'cause I am too lazy to post it right now.

Richard was overjoyed with the results, as am I.
The record reviewers haven't all been so kind--to the cover art, that is. The Houston Press begins their review by dismissing "the terrible cover art."
A blogger claimed the cover art:
"i think looks inspired by an old John Sewell Teenage Love poster to me."
Impose Magazine actually apologized for running the cover art with the review in an "Editor's Note"!
"[Ed. It also has one of the worst covers known to man. Apologies to all of our readers' eyes.]"
Yet another Website said:
"The title track is stunningly awful, along with the amateurish cover art conjuring images of a self-released Midwestern bar band."
I feel bad for Richard that so many morons hate the record cover art that we both like so much. Thing is, i think that the greater part of the legions of humorless guitar freaks who follow him, like many rock nerds, are missing a sense of humor, as well as the ability to enjoy the "grotesque" style of drawing that's my specialty. I am sure they would not like Basil Wolverton, Steve Ditko, Jack Kirby, or Don Martin's artwork if it adorned the cover. They'd be happy with a photograph, o maybe a Maxfield Parrish or Thomas Kinkade painting. Hey, some people just have no taste. Also, there were a few positive reviews for the CD cover.

Anyhow, Lloyd received a lot of positive CD reviews for the music, and that's what really matters.
Visit here for Richard Lloyd's "Radiant Monkey Philosophy":
Richard plans to produce a CD of Hendrix covers next, I hear.
Ironically, the title of Lloyd's last CD was "The Cover Doesn't Matter."

10:21 pm est
Monday, June 2, 2008
The Sex in the City movie phenomenon
We went out over the weekend and all over New York City were gangs of women dressed up like SITC characters, hanging out in the bars and acting all Carrie/Samantha-like. It was scary. And stupid.
It struck me that these women are the female equivalent to their male counterparts: Star Wars nerds, Star Trek fanatics, and gangsta rapper wannabes. All of these people can't create their own identities, so they depend on pre-existing cultural templates (sort of like the Web templates my crappy little Website is existing on).
These Sex in the City desperados are just like the losers who dress up like Luke Skywalker or Darth Vader, and pretend to "use the force" as they down their Cosmos. As they strap on their overpriced shoes, it's similar to a Star Wars dork playing with a light saber.

No one has called out these women for being terrible losers and culture victims yet. Instead they watch the box office grosses for what (reportedly) is a very mediocre film (based on a mediocre TV show).
It would be great if people didn't need to rely on bad cultural icons in order to create their identity, wouldn't it? C'est la vie.

8:08 pm est