Tuesday, November 27, 2012
Watch Out! The Best of PUNK Magazine Book Is Coming!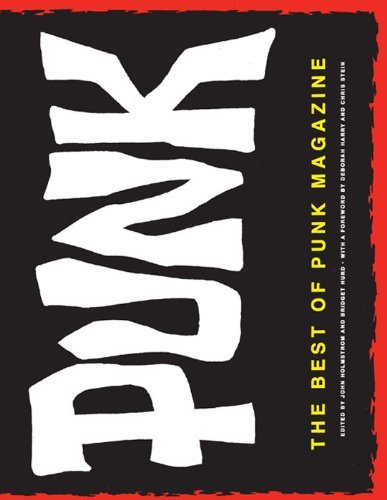 Yes, the book is almost here. You can order it at Amazon and get it in time for Christmas--or buy it for a friend!
If you're near New York City and would like to be the first kid on your block to buy one, there will be a limited number of books available at the New Museum event on December 13 (see details below).

7:31 pm est
Monday, November 19, 2012
LIVE EVENT: Panel Discussion on December 13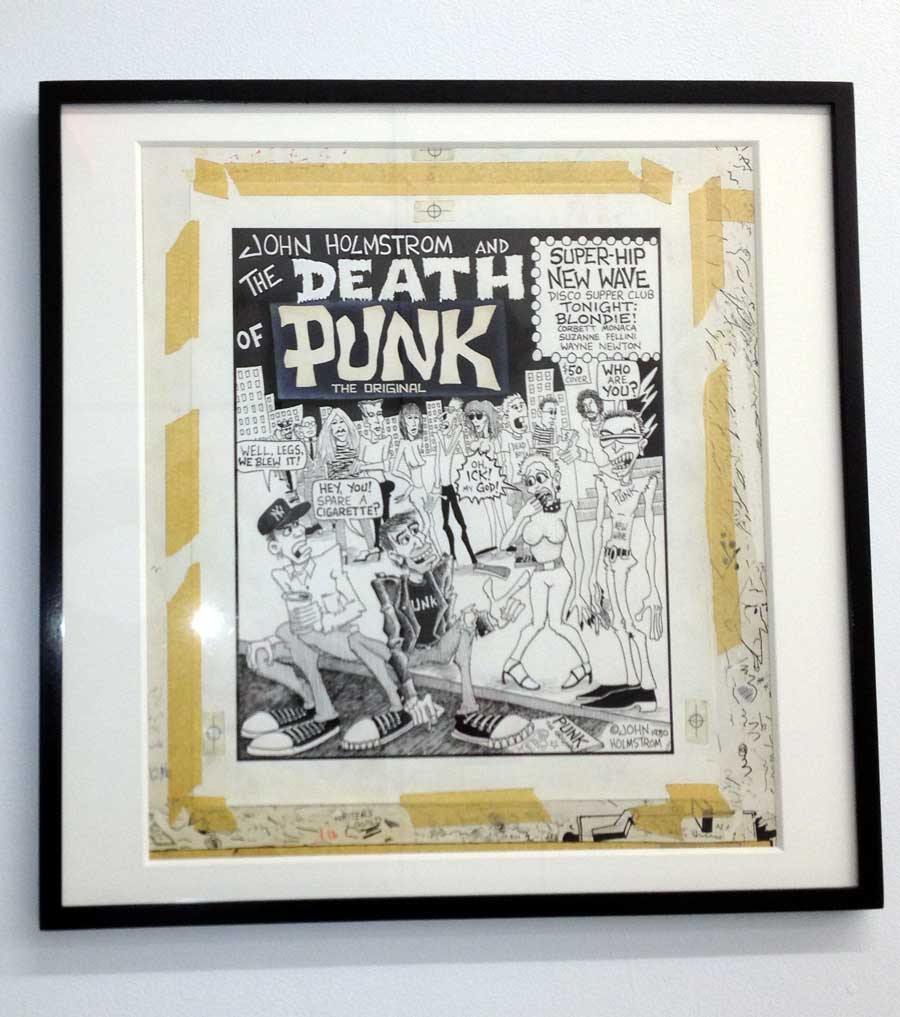 I haven't posted about this yet, but I have a drawing that's currently on display at the New Museum For Contemporary Art in New York City (see "artwork" above). It was originally done for a story published in the East Village Eye weekly paper.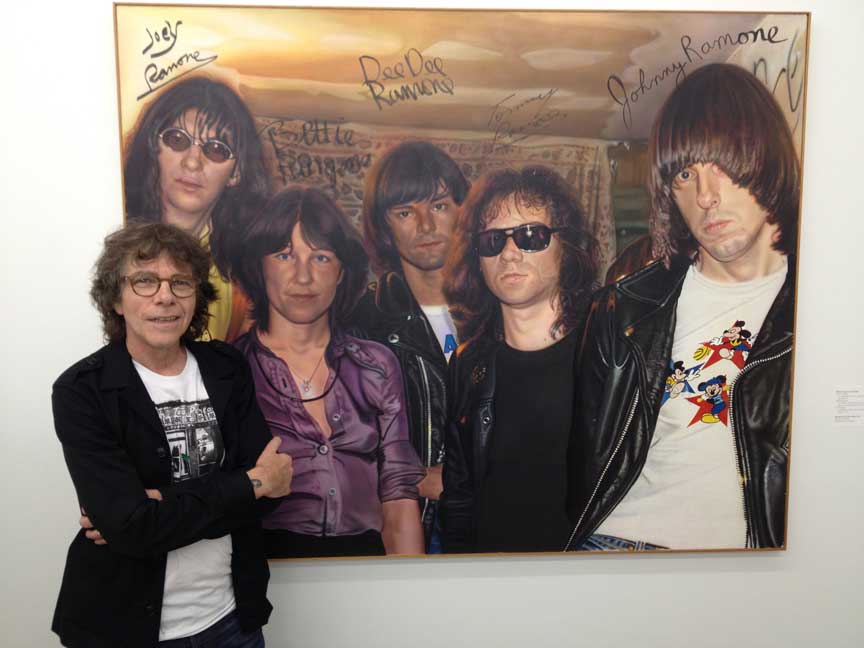 Here's another great image from the show: Above is a photo of Curt Hoppe who created this great photo-realistic painting of the Ramones in 1978. It was displayed at the WPA Punk Art Show, along with a lot of stuff from PUNK magazine, and curated by Marc Miller, who also has a lot of his stuff in the show. Later on, in the 1980s, Curt was part of the SCREW magazine crew, which also featured a lot of STOP! cartoonists and has a rich history of hiring great illustrators and artists. Curt did a great portrait of me which should be displayed early next year.
It's kind of nice to be included in a show that's mostly about the East Village art scene of the early 1980s, since I was mostly an outsider to that phenomenon. I always considered myself as a cartoonist/comic strip artist, not an actual "artiste." Nowadays people are starting to realize that the roots of that crazy art scene were at CBGBs, and this show reflects that. So Arturo Vega, the Ramones art director, is also featured, and will be a member of the panel discussion with me and photographers Pat Place and Marcia Resnick. Marc Miller's going to referee... Er, um, I mean moderate.

(NOTE: Please check out those links I provided, there's some interesting stuff in there!)

Anyhow, the panel discussion at the New Museum on December 13!
It says on the page that tickets aren't available yet, but the link on the right will bring you to the ticket page.It works--I just bought one for myself to make sure.
There's a good chance that we will have a few copies of "The Best of PUNK Magazine" book available for a signing event, so if you wanna be the first on your block to get a copy? This is the place to be.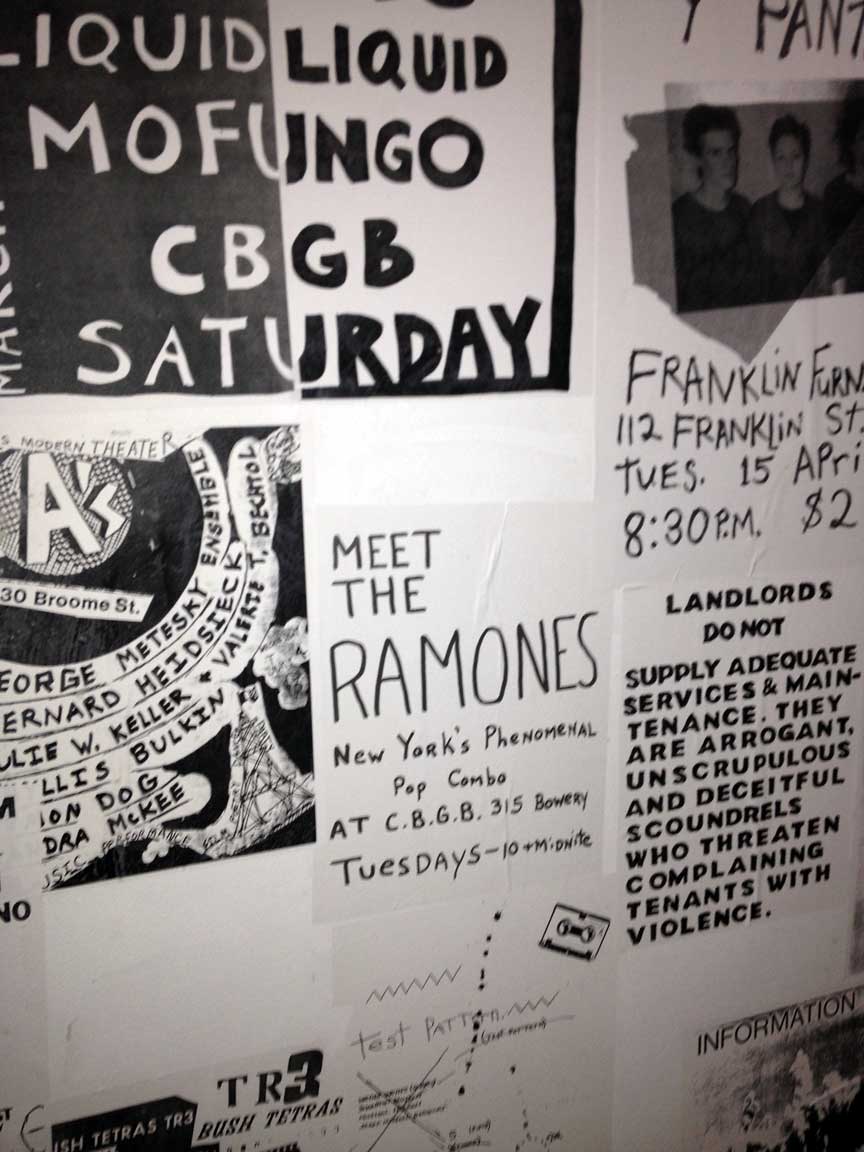 Above: Another image from the Museum exhibit.

12:05 am est
Thursday, November 8, 2012
The 50Kaitenz: Rock 'N' Roll Love Letter
I recently completed a trilogy of album cover artwork for the greatest punk rock band in the world today: 50Kaitenz. Yeah, I know that's kind of an outrageous statement, but anyone who doubts me needs to listen to their latest CD: "Rock 'N' Roll Love Letter."
These guys are totally insane! In the best possible way! Check my past blog posts for when we hung out together in Tokyo. Anyhow, for their last CD they asked me to destroy some wonderful, very professional photos that were taken of them. This was a challenge. But I did what I could to make them look stupid, ridiculous and terrible.
Apparently they, and their many, wonderful, Japanese fans, liked what I did, since I am now getting a lot of requests from Japan to destroy photos, draw graffiti all over them, and make stuff look crazy! Here's the CD cover I did for them: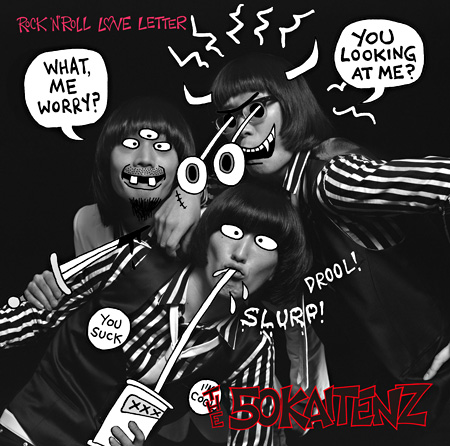 Like they say: 50Kaitenz are "Huge in Japan!" But if there was any justice in the world, they would be "Huge in the USA" as well. The last song on the CD: "Yeah Yeah Yeah, Yeah Yeah Yeah" is one of the best songs I've heard since the 1970s! (Or maybe since The Bullys first CD?)
You can buy this CD, and/or any of the other CDs 50Kaitenz has produced, on Amazon. If I could ever do it, I would produce a US tour for them. They are one of the best live bands I've ever seen--they rank up there with the Ramones, Alice Cooper, Dead Boys, Sex Pistols, Damned, Jimi Hendrix, Murphy's Law, The Who... Yeah--THAT good!
We need this kind of energy and rock 'n' roll insanity right now. This is my "Rock 'N' Roll Love Letter" back to 50Kaitenz! I love you guys!

2:59 am est
Friday, November 2, 2012
THE NO FUN BLACKOUT
My "FrankenStorm" Story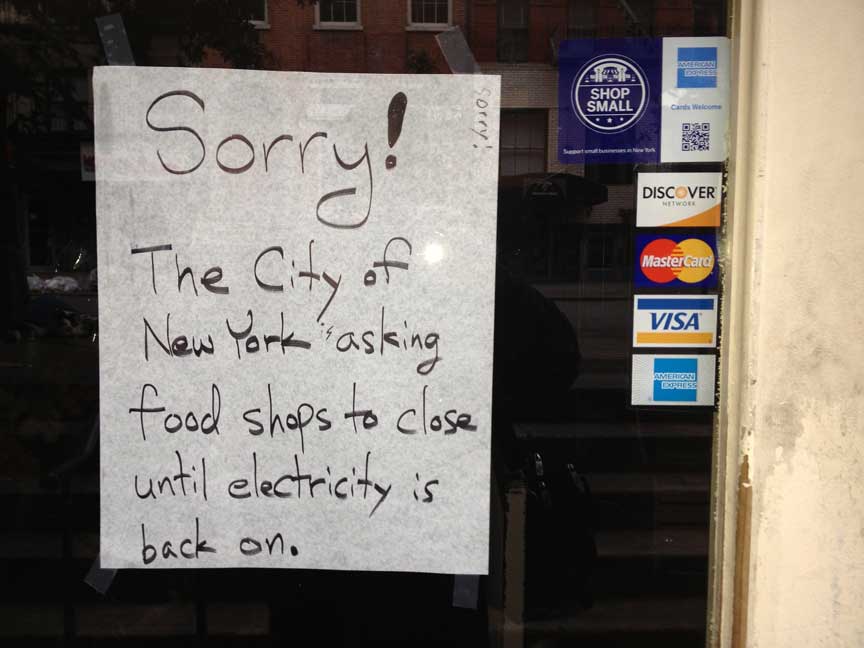 ABOVE: A sign on the door of a St. Marks food market: Why, exactly did our mayor forbid food sales when we needed it the most?

I heard the warnings early on--I even saw the earliest tracking suggesting that Hurricane Sandy might hit the east coast. This would be the Big One! I made sure I had all the essentials: flashlights, batteries, blah blah blah. Then the storm hit.
On Monday, it was no big deal, except that almost every neighborhood business was closed. A few delis were open, a 7-11 and a supermarket on 14th Street. Since the worst was supposed to be over soon I figured we'd be OK, especially since there wasn't much rain, really.
Around 8:30 Monday night I was watching TV and checking my iPhone for the latest weather news when I received an urgent message to evacuate the area! WTF, since I wasn't in an evacuation zone and I doubted that the storm surge would reach my fourth floor apartment, I didn't worry. Then I heard a few very loud explosions and the lights went out. I looked out the window and yeah, "Here we go again."
This was my fourth NYC blackout. The first was in November 9th, 1965 (when I lived in Connecticut). As a young kid, I heard how people had a party in New York City. No wonder I wanted to move here. The second was the most famous: July 13-14 1977 (during Son of Sam, the "Bronx Zoo Yankees" and punk rock). I definitely had fun during that one. The big East Coast blackout on August 14, 2003 was definitely "No Fun" for me because I drove to Detroit to see The Stooges' big homecoming concert. The power went out just a few hours before the show. I drove back to NYC as soon as I could, heard about all the fun people had in the streets, and got back just as the lights came back on, after the parties were over.
This blackout was different. The others lasted a day or two. This one? Four days. I tried to go outside after the lights went out but the wind gusts were too dangerous and everything was now closed anyhow. No bars, no beer, no fun. I spent the rest of the night and the next day cleaning up the melting water from the refrigerator, but at least I had some leftover food.
I had a radio but it was useless: The local news station, 1010 WINS, was knocked out, and the other stations weren't giving out much info (like where the local evacuation centers were or where the power outages had taken place). I had no idea if the entire world had lost power or just my little neighborhood. Radio is now owned by big national networks, so I heard financial advice (Bloomberg Radio), sports news (ESPN), music stations (all awful), lots of foreign language programming I couldn't understand, endless political coverage about Romney versus Obama, but absolutely nothing useful to my current situation. Shame on you, radio. You are supposed to be the last line of media defense.

You know those "Emergency Disaster Alerts" that interrupt programming all the time on your cable TV? Here's what I learned: They are totally useless. Because they tell you to tune into nonexistent radio programming. Maybe if this had been an atom bomb attack someone would have set up some "emergency radio programming," but since this hurricane had the power of a few atom bombs and this was an emergency, I think our system is broken.
On Wednesday I heard that there was "Limited Bus Service" so I ventured out to recharge my cell phone and figure out what the fuck was happening in my beloved city. I waited near 8th Street--no bus. Waited near 12th Street--no bus. Waited by 14th Street--no bus. Then someone said the buses started at 23rd Street. We all walked up there and got on a bus... This whole thing took over an hour, and I never ever saw it mentioned anywhere that buses weren't running above or below 23rd Street. Anyhow I got to a Starbucks near 84th Street where I charged my cellphone and tried sending messages to the people I owed artwork to. Apparently no one received them due to technical problems with the grid and all. A crazy traffic jam took over the city so I walked most of the way home.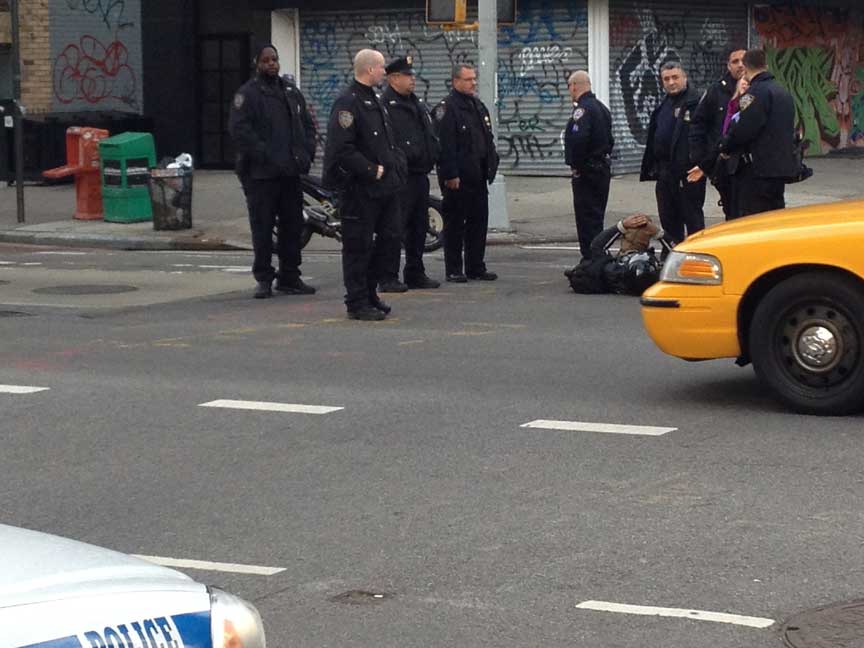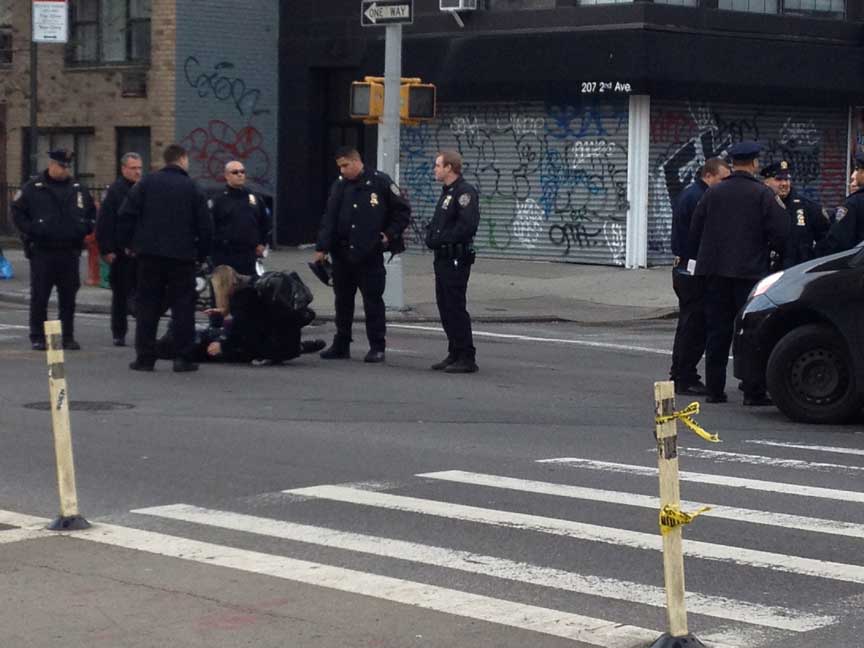 Above: A bicyclist struck by a motor vehicle is attended to by police while they wait for an ambulance. Since traffic lights were out all over downtown, accidents like this were inevitable.
The next day, getting on one of those free city buses was almost impossible. Even though the MTA was running a bunch of them, they were always too full of people desperate to get on to bother fighting your way on. I had to walk a few miles until I got one with room for a passenger. This was madness. And sad, because you saw how too many people act in emergency situations like this: Total pigs. I saw elderly people pushed aside by asshole adult males, and young women with children pushed aside... What for? A place on a bus? All this disgusting behavior encouraged me to just keep walking. I'd rather walk a thousand miles than act like those despicable, disgusting jerks pushing everyone out of their way to get on a city bus.
The few places that had WIFI also had lines of people waiting for the service. I had to walk several miles before I found one, and it took a few hours to recharge the damn iPhone. I tried to get on an Internet station but the bandwidth was worse than a dial-in connection--I spent $10 to send three email messages.

It wasn't just me having difficulty communicating with people. Here's a sign on The Continental, once one of NYC's best punk rock clubs, from Trigger, the owner. It kind of sums up how difficult the past week has been. Friends who live just a block away were impossible to reach. You also couldn't reach relatives a thousand miles away. You'd send messages to people and they'd never see them. Too often, our much-vaunted technology failed us.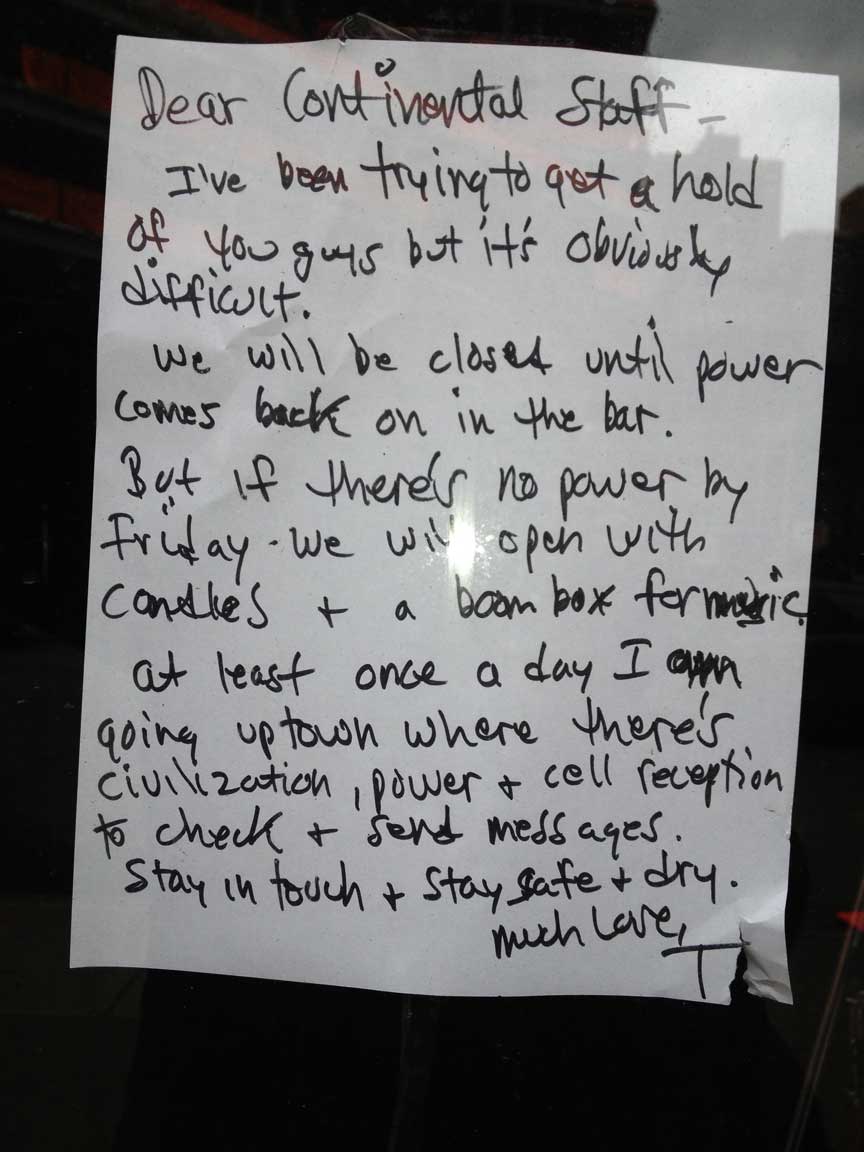 "FrankenStorm" should have made that fateful left turn at Washington, DC and not New Jersey. They are the people who need a wake-up call, not the poor citizens of New Jersey, Staten Island and Long Island. Anyhow, I do have a crazy political rant, I'll do that later, but honestly, what does it take for our idiot politicians to admit that climate change is a scientific fact?

9:32 pm est
Monday, October 29, 2012
Bossa n' Ramones
I am up to my eyeballs in work, and there's a lot I want to mention here on my blog, but since my time is crunched and the "FrankenStorm" is on its way, I figure I'll just mention my favorite CD at the present time. I will definitely be playing this at future book signings and parties for the "Best of PUNK Magazine" book which comes out in just a few months: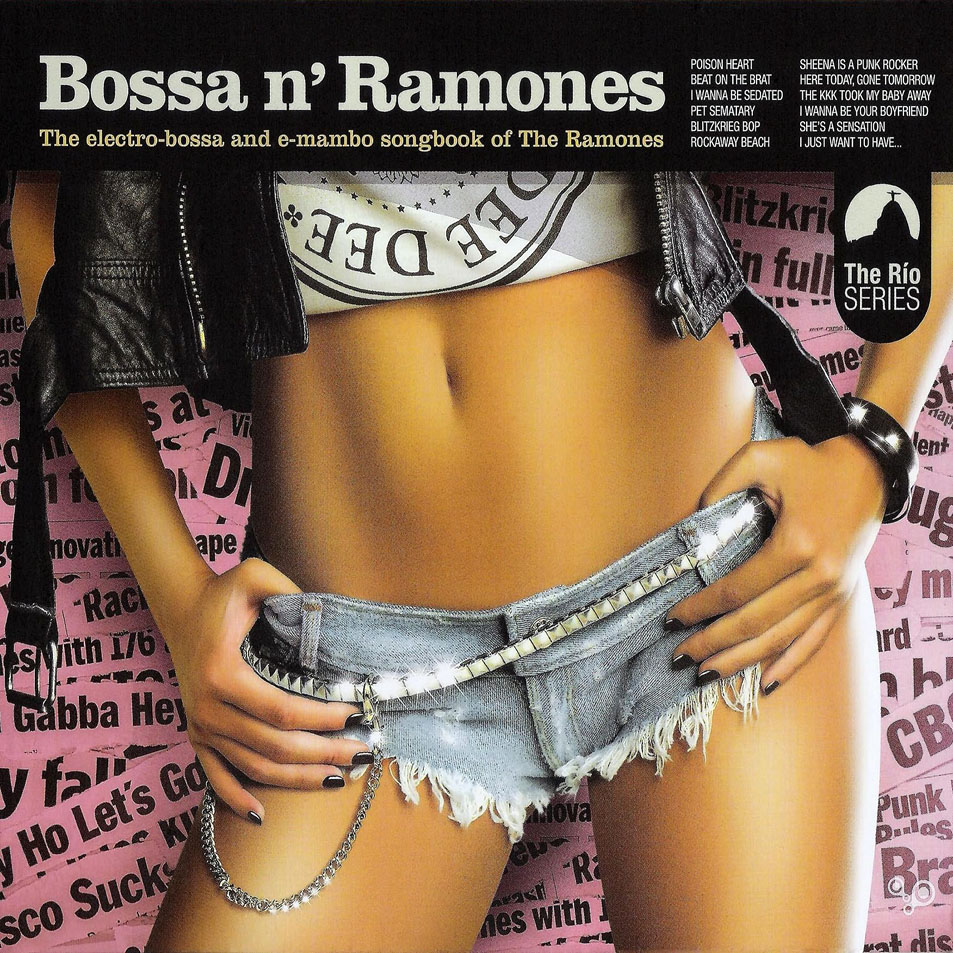 It came out several years ago (2008) but somehow escaped my notice... Cherie Currie and Angie Bowie both appear on tracks. This is the most imaginative and honest Ramones tribute I've probably ever heard. Here's the track listing:
Here Today, Gone Tomorrow
I Wanna Be Your Boyfriend
I Just Wanna Have Something To Do
She's a Sensation
Poison Heart
Beat On The Brat
I Wanna Be Sedated
Sheena Is A Punk Rocker
Rockaway Beach
Pet Sematary
Blitzkrieg Bop
The KKK Took My Baby Away

I highly recommend this for any Ramones fan. I found it on eBay or Amazon, whatever, so get a copy for yourself or a friend for Christmas. It's like a new way to listen to your favorite Ramones songs, instead of the usual "tribute album" where people just imitate what the Ramones did and fall short (because they were so much better than anyone else of course). I know, most of us would assume something like this would be stupid and lame, but it's not, instead...
It's great!

Well, as most of you know, I always thought the Ramones should have added a bongo player to the band. I figured their music needed a new flavor... A new touch... A little Latino flavor to go with the band name. Just imagine if the Ramones had gone Bossa Nova back in the 1980s, instead of sticking with punk rock... Whew!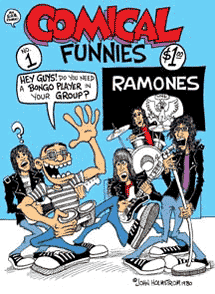 6:57 am est
Tuesday, October 9, 2012
FREE BEER!!!
Sorry for the late notice but apparently I am a last-minute addition to the panel discussion:

Wednesday, October 10th, at Jim Hanley's Universe on 33rd Street (in Manhattan), Patrick A. Reed is organizing 'A Celebration Of Pop Music Comics', a panel discussion & party. Things will start at 7pm, free beer will be onhand, there will be signings with creators, music will play, people will buy stuff, things will be awesome.
5:52 pm est
Tuesday, October 2, 2012
SUCCESS!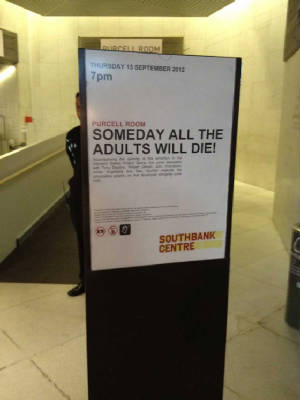 I just heard from Johan Kugelberg, the curator for the Hayward Gallery show in London. It is a huge success! I am not used to this, since most art shows I have been involved in were either complete fiascoes or else totally ignored by the media, but it's true! It's true. My work is being showcased in an important London art gallery in a show about Punk Art that is being seen as important, significant, cool and crazy.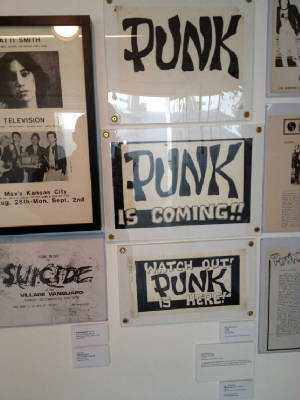 Okay, SO MANY things are happening for me that I can barely figure it out. Anyhow I am going to a test-screening for the CBGB Film soon. Don't expect a review or spoilers, since I am so involved in it that I can't be objective.
Also, the day I got back from London, I went to this show at a NYC Museum, which actually exhibited one of my drawings!!!
And, and and... I will be appearing at a panel discussion related to this exhibit, hopefully the "Best of PUNK Magazine book will ba available by then:
More later!

10:26 pm est
Thursday, September 20, 2012
Punk: An Aesthetic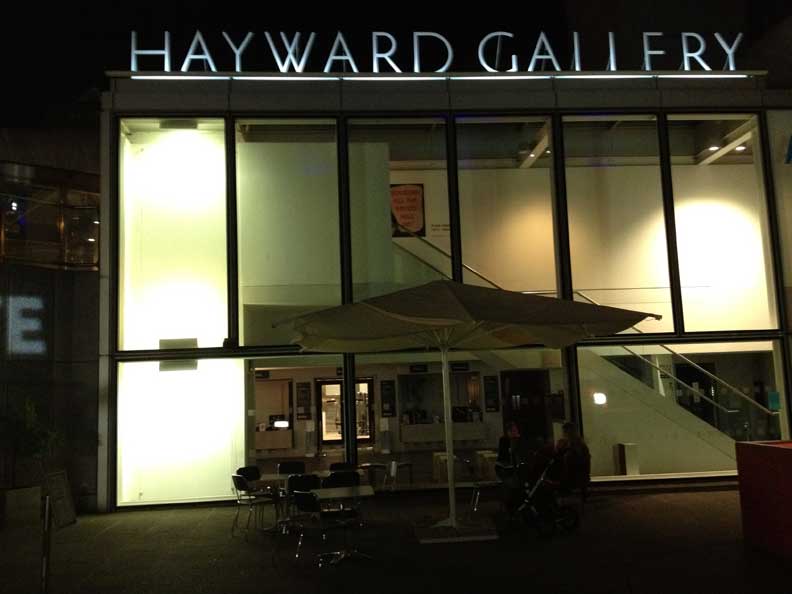 Above: The exterior of the Hayward Gallery.

I visited London for the first time last week. I've always wanted to check out that city, but never had the opportunity until now. This time around (Mafia jokes aside), it was an offer I couldn't refuse: Johan Kugelberg, the curator of the Boo-Hoo Ray Gallery in New York City, put together "Someday All the Adults Will Die," an art exhibition at the Hayward Gallery, which features a lot of my work. Anyone who can see it should go there immediately--you'll never ever again see another "Punk Art" show this amazing.

Full admission: I am working with Johan K. on some projects that will hopefully put some money in my pocket, but this is not why I am praising this gallery show. I think most of you who know me appreciate that I am usually brutally honest to a self-destructive fault, so if I didn't like this show I would say little, nothing or else trash the thing. But honestly, this is the best gallery show I have ever seen about punk rock. And I am working with this guy, Johan Kugelberg, because is the best researcher I have met so far when it comes to the whole punk rock thing.So, let's go on...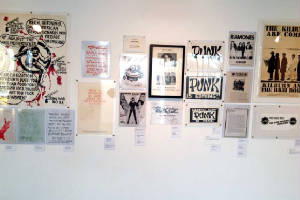 Above: One of the exhibition walls.

Back to the show. For instance, this is some of my work that is on display:
1. A very early rough drawing of the PUNK logo.
2. An original PUNK t-shirt.
3. The original artwork for the "Watch Out! PUNK Is Coming!" poster (although the top was cropped off and is lost).
4. The original artwork for a "Watch Out! PUNK is Here!" sticker.
5. A whacked out statement on PUNK magazine stationary.
6. Magazine covers from PUNK #1 and #3 as well as STOP! #5.
7. The first record cover for the Ramones' "Blitzkrieg Bop," which features the photo comic of the same name from the PUNK #3 centerfold.
8. Six of the original photos/artwork featuring Andy Warhol from Mutant Monster Beach Party (PUNK #15).
9. Three pages of my original sketches for the comic strip, "The History of PUNK" (which was published by SPIN magazine in the mid-1980s: The original artwork is on display at the Rock And Roll Hall of Fame Museum in Cleveland, Ohio.)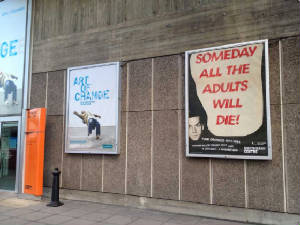 Yes, I agree with you. This is reason enough to buy a ticket, get on a plane and go see this show immediately. But there's a lot more! Such as some amazing Sex Pistols stuff:
1. An amazing display of Sex Pistols memorabilia and artifacts, including a rare copy of the "God Save the Queen" 45 rpm record (and a big-ass promo poster to boot) produced by A&M Records,
2. A full display of the "Anarchy In The U.K." newspaper.
3. A display of the advertising flyer that Jamie Reid used to steal the "Nowhere Bus" image.
4. A display of the advertisement that Jamie Reid stole the "Holidays in the Sun" record cover.
5. One of the infamous "Jesus Freak" fliers from the Tulsa, OK show during the Sex Pistols 1978 US tour.
And there's lots more Pistols stuff, of course.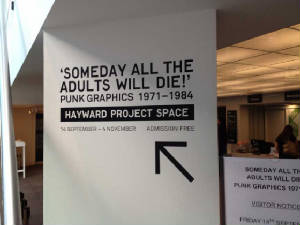 But that's not all! Look at this other stuff that appears in the exhibition:
1. Dozens of rare fanzine covers.
2. Dozens of punk rock 45 rpm record covers.
3. Lots of work by Gee Vaucher of the punk rock band Crass.
4. A never-ending video featuring many hours of punk rock singles, in a separate room from the art.
5. A video of Johan K. flipping through the pages of various fanzines, with commentary.
6. Original images from the 1960s of anti-hippie images like Ed Sanders "Fuck You" magazine, the Diggers, the Up Against The Wall Motherfuckers, as well as images from early 1970s London such as a Kilburn and the High Roads poster and stuff from Malcolm McLaren's fashionable clothing store "Let it Rock."

Okay, I know that most of you can't afford the time and money a trip to Great Britain demands, so what you want to do is order the book: Punk: An Aesthetic, from Rizzoli. It's available on Amazon, and most other book-selling Websites.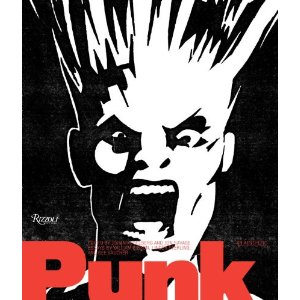 10:21 pm est
Friday, August 31, 2012
CBGB Film Sneak Preview
OK, I got this link from the CBGB film producers and I think it's OK for me to post it, since the content is from frickin' Entertainment Tonight! Anyhow, this is the first look at the CBGB film, so let me know what you think, OK? I like to think that it looks like a good film!

http://www.etonline.com/movies/124603_Malin_Akerman_on_Playing_Blondie_in_CBGB/
OK, not only does this clip have Malin Ackerman (who did a great job as Debbie Harry, as far as I could see), but it also features Ashley Greene (the totally hot babe, famous model and film SUPERSTAR who plays Lisa Kristal (Hilly's daughter) in the film), and Johnny Galecki (best known from Big Bang Theory, who plays the dearly-departed Terry Ork, one of the most-neglected but most important people in the history of punk rock).
And it also has a bit of me in it! I am the big, ugly mug talking with Ashley Greene, who is the nicest "Most Beautiful And Sexy Woman In The World" I ever met, by the CBGB bar... Honestly, she was so awesome and so nice I was dumbstruck every time I spoke with her, which you can probably see from our scenes together...
Other totally (and hot) nice babes I have had the pleasure to be acquainted with in my life:
Debbie Harry, who was always friendly and nice to everyone back in the day.
Niagara, of Destroy All Monsters, who's so smart and still nice to me all of the time.
Malin Ackerman herself, who I ran into at the airport on my way home, and hung out with during the film. Hey! This is a very nice person--and beautiful enough to come off as Debbie Harry.
Milla Jovovich, who posed for a cover of High Times magazine before she was famous... She had appeared in the film ""Dazed And Confused" and was hoping to push her music career. It was weird, she was star-struck to be hanging out at our place on 19th Street. I spent only a few minutes with her, she spent most of her time with our Music Editor Steve Bloom, but she came off as a very nice girl, very innocent, I hope she's still that girl.
So here's to beautiful women everywhere, whether they are nice to us or not! In fact, here's to women everywhere, because I always think every woman I meet is sexy and attractive, in some way. But you know what? Ashley Greene is just a bit more sexy and beautiful! So here's to her future success as a film actor, hopefully including the CBGB Film!

6:18 am est
Sunday, August 26, 2012
PEELANDER-Z!!!!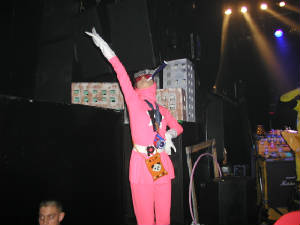 One of my favorite NYC bands of the 21st Century has been Peelander-Z. We reviewed their first CD on the PUNK Website (you have to scroll down a bit to see it), way back when, and once I saw them, I realized that they are one of those great rock 'n' roll bands that only come around once in a generation. Unfortunately, the world has yet to discover them!

Recently I had the opportunity to work with them, and drew the cover (and two interior pages) for a comic book they have produced: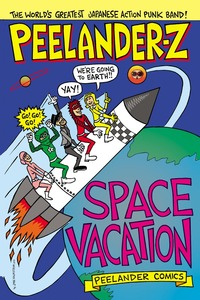 The comic book came out great! There's also artwork by the band members and some Japanese artists. As always, I am honored to work with creative people from Japan, they just seem to have more respect for art and weirdness than most US people.
Bands like Peelander-Z are the reason I wish I could bring out new issues of PUNK magazine. (Also The Bullys, The 50Kaitenz, The Kowalskis, The Cyclones, etc. etc.
OK, here are a few more photos from my collection... Peelander-Z are the best band to take photos of: they are so photogenic, and put on the best show you ever will see. Best of all? Everyone smiles and has a good time during their performances. Who else can you say that about any band in the history of rock 'n' roll? Tell me! Because I think these guys are the first (since maybe The Coasters) and/or The Dictators who refuse he role) to make people laugh, smile and have fun... But to me, that's what we need more of... There are SO many heavy metal, prog rock and even punk bands that play depressing music.
What the hell is wrong with having a good time???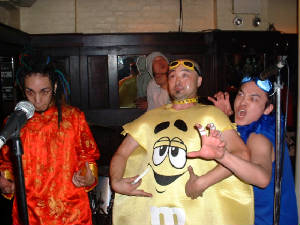 1:06 am est